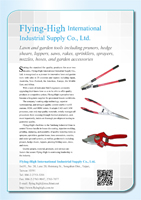 Setting the standard for quality products for over two decades, Flying-High International Industrial Supply Co., Ltd. is recognized as a pioneer in innovative lawn and garden tools with sales in 25 countries and regions including Japan, Australia, New Zealand, the Americas, Europe, the Middle East, and Africa.
With a team of dedicated R&D engineers constantly upgrading their know-how so as to be able to offer quality products at competitive prices, Flying-High is proud to have become a long-term supplier for prominent brands worldwide.
The company's cutting-edge technology, superior workmanship, and stringent quality control enable it to fill custom, OEM, and ODM orders. It adopts CAD and CAM processes, uses only top-quality materials, strictly manages all procedures from sourcing through finished production, and, most importantly, insists on thorough pre-shipment testing to guarantee quality.
Flying-High's facilities in the Taichung Industrial Zone in central Taiwan handle in-house die-casting, injection molding, grinding, stamping, and assembly of quality watering items as sprayers, sprinklers, garden hoses, hose connectors, nozzles, and under-ground systems, as well as garden tools including pruners, hedge shears, loppers, pruning/folding saws, rakes, and more.
Quality people, material, products, and services are factors that assure Flying-High's continuing leadership in the industry.